K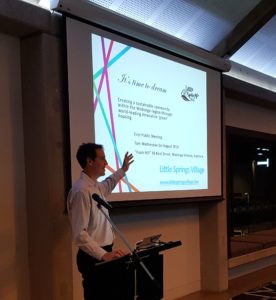 eynote speaker Ben O'Callaghan presented to a full room of 70 residents at Huon Hill on Wednesday night about a visionary grass-roots ecovillage project called Little Springs Village in Wodonga, Victoria. Ben also took the audience through several interesting statistics on Currumbin Ecovillage in Queensland, the most awarded residential estate in Australia. The event was covered by The Border Mail the next day.
A small group of long-time Leneva (Victoria, Australia) friends started taking steps to plan the project after touring Currumbin Ecovillage and falling in love with its vision, community facilities and design. Project Coordinator Kyleigh Andrews opened the event and invited feedback from the attendees and the wider community, so that it could be designed by the community, for the community. The Little Springs Village project is visionary as it aims to deliver several innovations in a peri-urban setting, unique to the area, such as:
a place for farmers to retire, where they can still lead agriculture in fertile gardens surrounding their homes
a place for families and those interested in sharing resources, to save on time and money
infrastructure to support collaboration, health and sharing including a pool, gym, storage spaces and library
designs support the synergies between younger and older generations using cohousing and ecovillage principles
a variety of high quality shared equipment such as bikes, tools, trailers, baby strollers, machinery and a variety of share cars
the highest levels of environmentally sustainable building
a demonstration project that the local Council can use to promote best practice urban design and educate others
Ecomplish has been engaged to provide professional advice on the planning and sustainable design of the strategic project.